SIMPLE, FLUID, EVERYWHERE
Experts in digital
platforms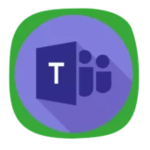 Choose your language, communicate and discuss
Straightforward and reliable
Perfect integration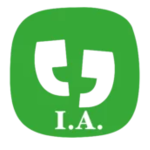 Real-time subtitling
with translation in all languages
Quality at your fingertips
STRAIGHT FORWARD – USER-FRIENDLY – AVAILABLE
Serving our customers
Our first priority is customer satisfaction. Thus, our vision is resolutely customer and user-oriented. Thanks to the feedback we receive, we are able to improve the technical aspects, the 360º functionalities (voice, translated chat, documents shared on the screen) and the overall quality
of our services.
The means to excellence: 2023 V3 platform
Based on our experience, in January 2023, we are launching the 3rd version of our platform. More reliable, outstanding sound and image, new features for the participants and the interpreters. Now attendees can listen to the floor (speaker) or the interpretation at the volume of their choice, read the documents in their own language and share translated text messages in real-time.
Tout comprendre
La voix, le tchat écrit, les documents partagés à l'écran
Quelle que soit la langue
À portée de main
Toutes les plateformes, tous les dispositifs
Une ergonomie pour faciliter les échanges
We very much appreciate the availability of our contacts at iBridgePeople in terms of the organisation of our meetings, the quality of the translations and the presence of responsive technicians throughout the meeting. In addition, the platform is very easy to use and the support and testing for the preparation of these meetings is optimal. We have very positive feedback and recommend iBridgePeople's services.

Zoé Robert, Antoine Trarieux, Barbara Whitehead
Groupe IMA
The ibridge platform is easy to use, accessible from all over Europe and quite user-friendly for a videoconferencing medium. Today, we consider it an indispensable support for our international meetings with simultaneous interpretation and a guarantee of quality and comfort for all: organisers, interpreters and participants. The availability of ibridge's commercial and technical teams, their skills, their flexibility and their ability to listen.

INTEFP
INTEFP Project Team
Excellent work! From the direct contact with you to the technical support at the meeting: well done. Thank you very much for your efforts... The interpreters are giving us very good feedback on iBridge People V2: The new version is easier to learn and easier for customers to use.
Thomas Tannheimer
DB netz AG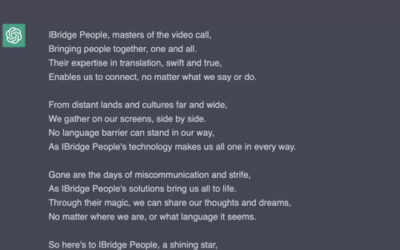 Amazing!ChatGPT writes a Victor Hugo-style poem...
read more
iBridge People

in a few figures
anywhere || any language || anytime